This is a re-post of Rob's excellent thread explaining the different reticles.
Lots of people are asking these days about getting into long range shooting, and what scope and reticle they should get.
Disclaimer: I am not an "expert", but shoot my fair share of long range and steel matches with a bolt gun. After talking with a lot of people that do the same I think the following is some good basic information.
Hopefully some of the other
experienced
long range scoped rifle shooters will chime in with their information.
Opinions are varied. Mostly it comes down to what one is comfortable using, and what you have to know and remember to get the most out of the reticle you use. These days it goes without saying that if the option to have the knobs and the reticle both MOA or both MIL, it's better to do so. Not all scope manufacturers offer that option. It's not a deal killer, just nicer to have.
There are literally dozens of reticle choices depending on who you get a scope from. Most are variations on a theme and offer more or less detail depending on the needs of the shooter. When it comes to MOA reticles pretty much the only choice is lines. With MIL you can have either lines or dots. Lines are exactly that, whereas dots are circles and ovals of specific size, but centered at the same place as a MIL line would be.
Typical reticles.
The Nightforce NP-R1, a MOA reticle.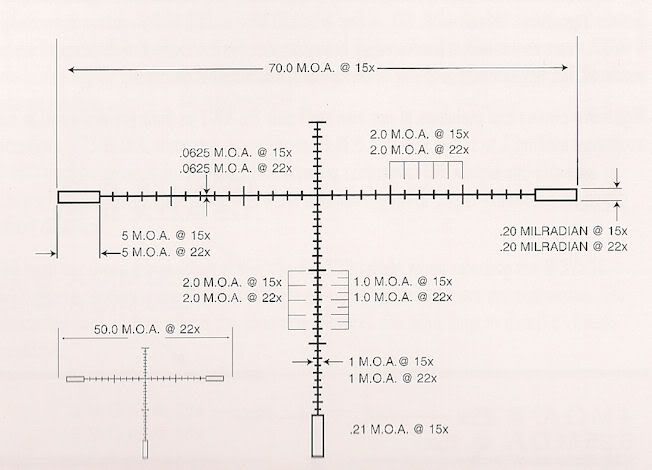 The Nightforce MLR, a MIL reticle.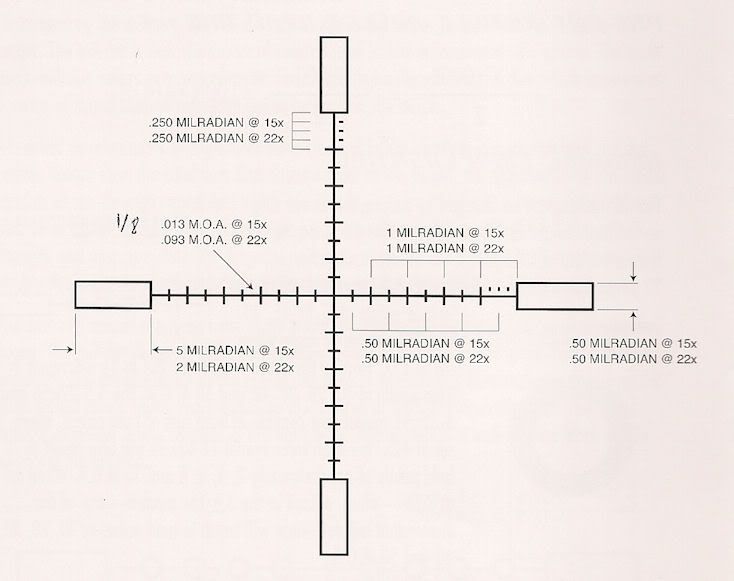 Since by volume Leupold is probably the largest, their TMR, a MIL reticle.
With MIL dots there are 2 types. The Army dot, and the USMC dot.
Army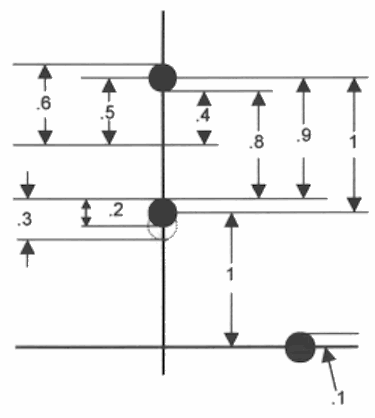 USMC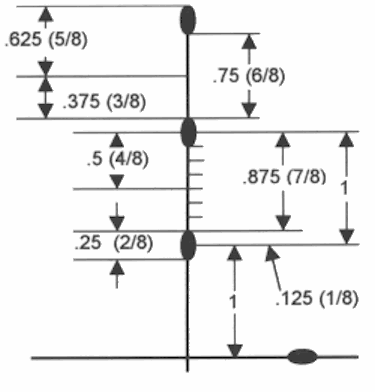 Whether MIL or MOA, the reticle is not used just for ranging, but also for "holding over/under" for elevation, or "holding off" for windage instead of dialing the knobs. This is most useful when engaging targets at different ranges in rapid succession, or when making multiple quick shots in changing wind conditions.
Some people will ask, "Which reticle gives better accuracy, or the ability to make a finer compensation for adjustment?"
Well, when it comes to MILs, if you ask the Army and Marines, you will get 2 different answers because they each calculate it differently. The Army says a MIL is 3.53 inches at 100 yards, the Marines say it's 3.6" at 100 yards. When it comes to MOA there are also 2 different answers because some are made in
Shooters MOA
, which is 1" at 100 yards, and some are made in
True MOA
, which is 1.047 inches at 100 yards.
But since most people can't make really fast rapid calculations in their head in the field, and often times in competition (or on the battle field) time does not allow one the luxury of pulling out a calculator, we'll go with the Army MIL definition and Shooter MOA because it makes math easy.
I made the chart below (I'm pretty sure I got it right, and if I didn't I know someone will correct me) so you can see what what the different gradations are in inches at various distances.
On most scopes with MOA lines the lines will have gradations of .5 and 1 moa, MIL
line
scopes will have them in .2, .25, .5 and 1 mil. This is not taking into account the thickness of the lines themselves, just the main horizontal and vertical lines. Mil dots are a different animal and take a lot more practice to use.